50 Religious Names for a baby girl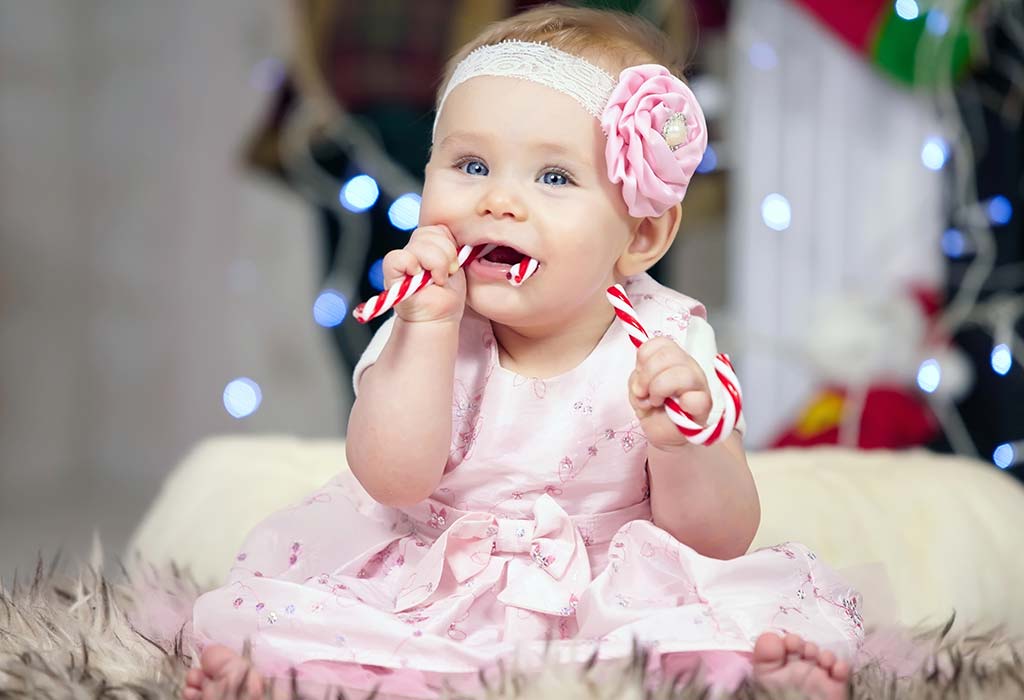 Congratulations on having a baby girl. "A baby girl is a miracle that never ceases to be miraculous."
How excited are you to keep the beautiful name of your daughter? Hindu names are never ending for a baby girl. All our deities, goddesses have beautiful names with even more beautiful meanings.Also your pandit must've told you the initial letter for the name of your baby according to her kundali charts and stars.
Your baby girl deserves the best place and identification in the world.  So here we give you 50 religious names with its meaning starting with all the alphabets.
1. Alisha:
If you want your babygirl to always be protected, Alisha is the name. It means 'protected by God'.
2. Aadarshini:
Aadarshini means Idealistic.' Who doesn't want their daughter to be idealistic? It is an ideal name for your one in a million daughter.
3. Aabha:
Aabha is a sanskrit word which means' glow'. It is unique and a rooted name.
4. Aashi:
If you want your daughter's life filled with smile and laughter, Aashi is the right name. It means 'Smile'
5. Adya:
Adya means 'first' in sanskrit. What else do you want for your baby girl?
6. Bhriti:
Bhrithi is a nice name for neo Indian families and also very meaningful. Bhrithi means 'strengthened; nourished and cherished'.
7. Banhi:
Banhi means 'Fire'. Fire has a significance of power, purity, and spirituality in hindi Mythology.
8. Charvi:
Charvi is a better version of its derivative Chavi. Charvi is a name from Indian mythology. And if it interests you, you may know it was the name of Kubera's wife, which means 'Beautiful Lady'.
9. Chitrani:
Most parents search for names related to nature, who are still attached to their culture of worshiping rivers. Meaning of Chitani is 'River Ganga'
10. Drishya:
A name which is cute and insightful. Drishya means 'Sight'.
11. Diti:
If you belong to a modern family and looking for a short and a meaningful name, ho for 'Diti'. It means 'Idea'.
12. Darika:
Quite an unpopular name, Darika means 'Maiden'. Imagine, after getting married your daughter is still going to be a maiden.
13. Dayita:
A modern name worth your attention is Daiyta. It means 'Beloved'. And your baby girl is indeed beloved by all.
14. Devishi:
If you are a devotee of goddesses and looking for a modern name, devishi is the best option. 'Devishi' means 'Goddess Durga'.
15. Dyuti:
Short and a bright name for your cute little pie is 'Dyuti' which means 'Light'.
16. Ela:
Sounds like a English name? Well, you are mistaken, ela is an unpopular names related to nature. It means 'cardamom tree'.
17. Eva:
Most of you will agree that you were just existing and your daughter's birth gave you life. And now she indeed has become your life. So 'Eva' means 'Life'.
18. Edha:
Edha can be a short and cute name for your daughter. Edha means 'Sacred'.
19. Giva:
Giva is a better version of 'Jiva' which means 'Living being'. It may sound foreign name to you but it is Indian and attractive.
20. Gitashri:
Here comes the most religious name, which teaches us the way of life. Gitashri means the holy book 'Bhagvat gita'
21. Falguni:
Falguni is an old but still a unique name. Falguni is derived from 'Falgun' which is the name of a month according to the Hindi calendar.
22. Hiya:
Did you give your heart to your baby girl already? Keep her name 'Hiya' which means 'heart'.
23. Ira:
Again an easy peasy and short name for the girl child. And of course she is your world, so Ira means 'Earth'.
24. Janya:
You gave life to your daughter and she gave you the biggest reason to live. 'Life' is what Janya means.
25. Keya:
Gave birth to a pretty little blossom? Well, compliment her with the name 'keya' which is a synonym of 'flower' in hindi.
26. Laranya:
Sounds a little Royal, eh? No wonder your daughter is. Laranya means 'Graceful'.
27. Miraya:
Are you religious and worship 'Lord Krisna'? Miraya is the name. It means 'Devotee of lord Krishna'
28. Neysa:
Quite modern, right? Neysa means 'Pure'. Just like the heart of your daughter.
29. Ojasvi:
Bright and Beautiful is the future of your daughter, So her name should be. Ojasvi means 'Bright'.
30. Prisha:
No wonder a baby girl is a gift and blessing of god. Prisha itself me 'loved by god'.
31. Ranya:
Ranya means 'Pleasant'. Which your daughter is, no doubt!
32. Suha:
Make your girl a star since birth. Suha is a short name for 'Suhana' which is a star as per the hinu mythology.
33. Tiya:
Tiya is a little old and common but never fails to gain attentionTiya means 'bird'.
34. Urmika:
No, it wasn't a name of some queen or princess, it just sounds like one. Urmika has a very beautiful meaning. It means 'small wave'.
35. Ura:
We make our child our world. And if it is so, then Ura means' Earth'.
36. Viti:
Viti is a little uncommon, which means 'Light' in hindi.
37. Vaidehi:
A personal favorite and a little popular name is Vaidehi. Vaidehi is another name of 'Goddess sita'.
38. Yutika:
Seems like 'flower' has a lot of synonyms, Yutika is one of them. As graceful as your daughter.
39. Yashasvi:
Not a popular name but a popular meaning. Yashasvi means fame.
40. Tisya:
Tisya means 'Auspicious'. And I am sure you believe your daughter is Auspicious for your family.
41. Saanvi:
It is said that a girl child is a n avatar of goddesses. Saanvi is the other name of goddess Laxmi.
42. Riya:
Riya has been quite popular lastly. But nobody could took away the attention of this name. It is a musical name which means 'Singer'.
43. Nitya:
To irregular life chores, I am sure you want your daughter to be regular in whatever she does. 'Regular' is the meaning of Nitya.
44. Kuvam:
Kuvam means 'Sun'. As we all know the significance of sun in Hinduism, you can surely name your girl after Sun.
45. Valini:
Always loved watching the night sky filled with stars. Now watch you baby girl if you keep her name Valini which means 'stars'.
46. Kavya:
Kavya is such a sweet name which means 'Poem'.
47. Ishana:
Desired to have a daughter? Congratulations, you have one now. Name your girl as Ishana which means 'Desire'.
48. Hradini:
A name sounding too old but uncommon and royal. Hradini means 'Listening'.
49. Dishita:
Who doesn't want their child to be focused on their goals. Dishita itself means 'Focus'.
50. Noor:
Noor means 'Glow', for which all the girls strive.
Never ending and peerless religious names for a baby girl. We hope you got one for your one in a million daughter.
Subscribe to get the latest names in inbox